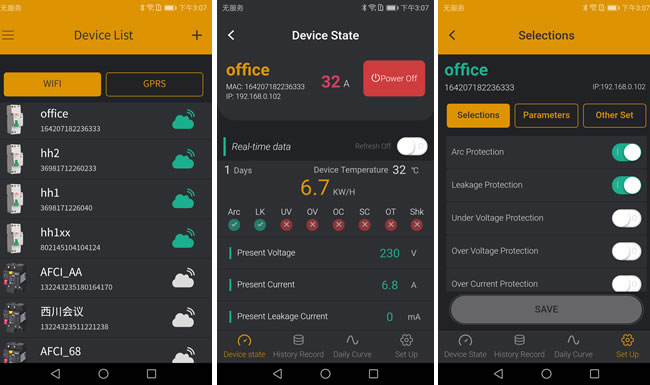 1. The 2021 AI Breaker is mainly used to prevent branch electrical fires and electrical big data remote monitoring and mobile APP monitoring.
2. The 2021 AI Breaker can communicate directly with mobile phones and PCs through the cloud server, and the faults can be pushed in real time, mainly to prevent electrical fires. You can also query the voltage, current, electrical energy, power factor, power consumption, fault type and other parameters and daily curves of each branch,and switching on or off remotely. (Rated current 6-32A)
3. The product complies with the standards of GB/T31143-2014/GB14287.4-2014/3C/IEC62606/UL1699.
4. Product features:
(1) Real-time arc fault protection function, load type recognition function, load start and shutdown recognition function;
(2) Building (house) vibration alarm function (can be used for seismic big data collection);
(3) Load type recognition function (recognition of load greater than 3A);
(4) Timing startup and timing shutdown function;
(5) Real-time upload and display the breaker's power consumption, voltage, current, leakage current, power factor, fault type and other parameters;
(6) There are leakage, over voltage, under voltage, over current, and short circuit protection functions, and electrical protection parameters can be set and modified;
(7) LED status indication function, buzzer prompt function;
(8) It has the functions of learning new load waveforms and preventing the AFDD from malfunctioning.
5.We will support establish your MQTT server in your local area (in your country)
6.tel: 13911600336 email:13911600336@126.com

UNO_CANBUS_control_list_003.pdf


AFCI_WIFI_protocal_EN_2022.pdf